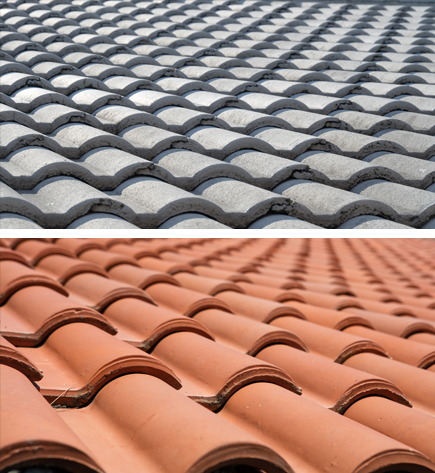 Clients Satisfied
With Residential Roofing
Trust Your Home With The Roofing Experts!
Finding the right residential roofing material can be a daunting task. Your roof must be tough and durable to ensure that your family and belongings are safe from harsh weather. As a professional roofing contractor, we'll ensure that you'll have a roof that is built to last!
Choosing the perfect roof all goes down to your preference. However, there are several factors that you'll need to consider in choosing the right roofing material. This includes the climate in your area, the environment, the structural integrity of your roof, and the position of your home.
You'll receive exceptional residential roofing services and superior roofing products when you work with us. The key to a successful roofing project is using the best materials from the best brands in the market. Best of all, we offer our roofing services at competitive and affordable prices!
Best Residential Roofing Products For Your Home
One of the most popular residential roofing materials is asphalt shingles. Not only can they be used in any climate, but they're also durable. They're very easy to install and maintain and best of all, they're affordable.
Asphalt shingles have evolved with technology and newer asphalt shingles are more resistant to extreme weather. Newer asphalt shingles are more resistant to mold and algae. They also have better resistance to fire.
On the other hand, asphalt shingles can be easily installed on homes with a complex roof design. Newer asphalt shingles help improve the aesthetic appeal of your home. They come in different cool colors that reflect heat and sunlight and improve the insulation of your residence. 
When it comes to energy-efficiency, asphalt shingles help regulate the temperature of your home. They'll keep you warm in the winter and keep you cool during the summer months. Your cooling or heating system doesn't need to work hard to cool or heat your home. Lower energy consumption means lower energy bills.
Asphalt shingles can last for 20 years with proper maintenance. However, the lifespan of asphalt shingles also depends on the quality of the material. Asphalt shingles tend to have a shorter lifespan when installed on residential properties that have flat roofs or low-sloped roofs.
They're prone to curling, cracking, or buckling especially when exposed to severe weather. Despite these drawbacks, they're still an excellent choice for residential roofing material. There are three types of asphalt shingles and it includes three-tab shingles, architectural shingles, and luxury shingles.
Three-tab shingles are also called strip shingles. They're thinner and lightweight when compared to other types of asphalt shingles. Strip shingles are made of a single shingle tab that is composed of three separate tabs.
Many homeowners choose three-tab shingles because they're affordable and durable. Three-tab shingles or strip shingles are coated with asphalt for better resistance to water.
Architectural shingles or dimensional shingles are tougher and more durable than three-tab shingles. They're more resistant to severe weather and have better resistance to fire. Architectural shingles are versatile and can be installed on any type of residential roof.
Since architectural shingles provide better protection than three-tab shingles, they're more expensive. They're also easy to cut and install on any residential roof designs. They also come in different colors, sizes, and shapes.
Luxury shingles are also called premium shingles. When compared to three-tab shingles and architectural shingles, luxury shingles are more durable. Since they're manufactured using multiple layers of asphalt and are built on a heavier base material.
Unlike most asphalt shingles, luxury shingles can keep their shape and color even when exposed to extreme weather. Since luxury shingles are made of multiple layers of shingles, they provide more protection which makes them a perfect choice for a residential roof.
Luxury shingles have a multi-directional texture and they can mimic cedar shake and slate roofing materials. Also, luxury shingles come in different colors, styles, and designs and they're the most expensive type of asphalt shingles.
Clay tiles are very popular among homeowners because of their natural appearance. It can enhance the aesthetic appeal of your home. They come in different colors, styles, and designs. They're extremely durable and they're resistant to fire, salt, frost, and severe weather.
When clay tiles are properly maintained, their lifespan can last for 50 years or more. However, you'll need additional reinforcements to your roofing system since clay tiles are extremely heavy. Clay tiles are one of the most attractive roofing materials for your residential property.
Slate is also a very attractive roofing material due to its natural appearance and it will enhance the curb appeal of your home. It's made from a sedimentary rock that consists of volcanic ash or clay. Slate comes in different colors, patterns, and styles.
Slate is extremely durable and it doesn't absorb water or retain moisture. Unlike asphalt shingles, they're resistant to rotting, mold, or algae buildup. The only downside to slate is that they're heavy and additional roof reinforcements are needed on your roofing system.
Cedar is also an excellent residential roofing material. Similar to clay tiles and slate, they offer a natural appearance that will also improve the curb appeal of your home. They're tough and durable and they're resistant to fire and severe weather.
One of the best features of cedar shake is they contain natural preservatives that help prevent moisture and absorption. They're also resistant to insects. When cedar shake is exposed to severe weather, they retain their original form and color.
Cedar shake provides the perfect insulation for your home and it keeps you cool during the summer and warm during the winter months. Not only is cedar eco-friendly, but they're also fully recyclable. However, additional reinforcements to your roofing system to support the weight of cedar.
Metal roofing is one of the fastest-growing residential roofing materials in the market. They're extremely lightweight and they're very easy to install. The lifespan of metal roofs can last up to 50 years or more when properly maintained. This is the reason why most homeowners are switching to metal roofs.
Metal roofs are eco-friendly and they're fully recyclable. They provide excellent insulation and they're energy-efficient. Your home will require low energy consumption which also means bigger savings on energy bills.
Metal roofs are available in a wide variety of colors, shapes, and styles. The drawback of using metal roofs include the slow installation process. But given the benefits, metal roofing is excellent residential roofing material.
A roof estimate is essential so you'll have a clear perspective on how your roofing project will look like. You must be aware of what's written in your roof.
No matter what type of roofing project you're considering, we've got you covered! Call us today for a free estimate!