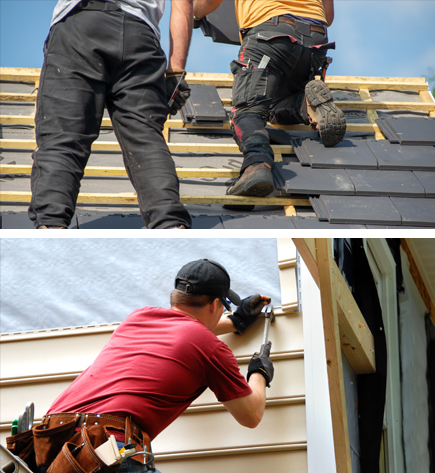 Clients Satisfied
With Residential Roofing
Quality Care, All The Time.
Your roof and siding is your first line of defense against inclement weather. It's also one of the most important functional structures of your residential or commercial property. Not only does it protect the occupants of your property, but it also protects your investment.
It's extremely important to make sure that your roof is always in excellent condition. Minor or severe damages need to be repaired immediately to avoid future problems and unnecessary expenses.
Several factors contribute to a damaged roof. For instance, if your roof has already reached the end of its useful life, storm damage, and other unavoidable circumstances.
We know how hard it is to deal with different roofing problems and you'll need to make sure that roof damages are repaired right away.
On the first sign of roof damage, have it repaired right away before it gets worse. If you neglect or disregard minor roofing problems, they'll cause more trouble and you'll end up with more problems and expensive roof repairs.
Roof repair will help prevent water leaks, mold or algae build-up, and a sagging roof. These are just some of the things you'll prevent when you have your roof repaired right away.
You don't want to end up replacing the entire roof of your property because of a minor repair that was disregarded.
Work With A Trusted Roofer
The smartest decision is to work with a trusted roofer to inspect your roof and process the necessary repairs.
Not only do they have the right equipment, but they're also experienced and highly-skilled to identify and repair different roof issues. They'll prioritize safety and they're familiar with walking around different types of roofs.
We're dedicated to serving the entire Huntsville, Alabama area and we provide fast roof repairs with exceptional workmanship. We'll make sure that your roof is in excellent condition after repairs and we'll ensure that your roof is built to last.
Roofing is a dangerous job and accidents can happen anytime and anywhere. Don't risk your safety by climbing your roof and process the repair on your own. We'll take care of your roof so you don't have to.
When you work with a trusted roofer, the long-term benefits include saving a lot of money. Also, it's expensive to look for the right roofing materials on your own.
Since we're a local roofer, we have access to the best roofing materials at lower prices since we purchase them directly from leading manufacturers.
You'll receive amazing quality roof repair services with superior roofing products at affordable prices. On the other hand, our expert roof repair technicians work with the best materials and the latest technology in terms of roof repair. You'll be assured of a tough and durable roof!
Advantages Of Roof Repair
Roof repair has many advantages and having a trusted roofer inspect your roof will help you save money and at the same time help extend the lifespan of your roof. We'll be able to identify weak spots that need immediate repair.
It's very important to determine visible and hidden signs of damage to avoid minor problems from turning into major problems.
We can detect early signs of damage and make the appropriate repairs. Never disregard or neglect signs of damage since your roof is the barrier between you and outside elements.
Professional Roof Repair Services
Whether you own a residential or commercial property, we provide exceptional roof repair services in Huntsville, Alabama. As a trusted roofing contractor, we provide minor to severe roof repair services. Our expert technicians are well-trained and highly-skilled to perform any type of repairs on your roof.
Many residential and commercial property owners in Huntsville turn to us for different roofing problems that need immediate repairs.
When you work with us, we'll guide you and assist you with any questions you may have about our roof repair service and we'll keep you updated with the roof repair from start to finish. We'll also provide you with a comprehensive roof inspection and maintenance service.
Our goal is to repair your roof to extend its lifespan. We'll never suggest or recommend unnecessary repairs that you don't need. We'll perform fast, high-quality roof repair services. When your roof is in excellent condition, you'll save money initially and avoid future problems.
Signs You Need A New Roof
It's fairly easy to identify different types of damages on your roof that need immediate repair.
Some of the visible damages you may encounter include a sagging roof deck, granules in gutters, missing shingles, broken tiles, water leaks in your attic or ceiling, heavy stain or discoloration on your ceiling, and high energy bills.
Water leaks are the most common signs of roof damage and it can come from different areas on your roof. Water leaks are a result of missing or broken roofing material, often caused by storm damage.
If you see these signs, it's important to have them repaired right away to prevent mold or algae buildup. It will prevent serious structural damage to your home or business. Call us today for a free inspection!
A roof estimate is essential so you'll have a clear perspective on how your roofing project will look like. You must be aware of what's written in your roof.
No matter what type of roofing project you're considering, we've got you covered! Call us today for a free estimate!